Game Chess Clock for Pre, Pixi, Veer WebOS Smartphones
This time to turn your new WebOS smartphone to a digital game clock. The price of this app is much cheaper than physical game/chess clock you buy at store.

This app keeps accurate time and supports 7 time controls so it can be used for most two player board games including Chess, Go, Checkers, 将棋 Shogi, Backgammon, Othello, and many others

1- Sudden Death
2- Hourglass
3- Japanese Byoyomi
4- Canadian Overtime
5- Bronstein Delay
6- Fischer Delay
7- Penalty

More features:

* Clear display and easy to use
* Set each clock independently
* Highlights the currently running clock
* Count total moves of each player
* Pause and Resume
* Option turn On/Off sound effect
* After time runs out, app will show the winner
* App will prevent your phone from going to sleep.
Pre, Pixi, Veer Screenshots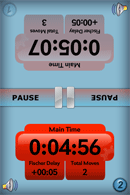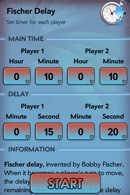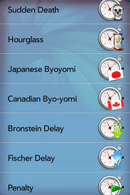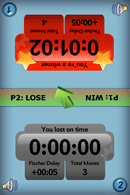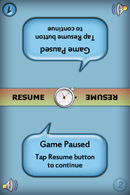 Customers Also Bought

Yo Mama Jokes
Enjoy the best and most original Yo Mama jokes at your fingertips. Total 500 jokes in 5 category: Yo Mama is so Fat, Old, Poor, Stupid, Ugly.

Greeting Card Messages
Finding the right words, perfect phrases to personalize your greeting cards (or send SMS/Email these messages to your friends, family)

Words Of Wisdom
Words Of Wisdom is an app worth having, reading and giving to others. Open the app and you will discover the secrets of life.

SMS MMS Email Emoticons
Having fun to send MMS/Email 5000 emoticons. Rich text editor with email statinery will let you create a beautiful email messages